June 29, 2006
Apple released iTunes 6.0.5.
iTunes 6.0.5 allows you to sync your Nike + iPod workout data to nikeplus.com, where you can easily track your progress, set training goals, challenge others, and much more. Visit the Nike Sport Music area on the iTunes Music Store to download workout mixes, Athlete Inspiration playlists, Nike podcasts, and more.
This release adds support for the newly available Nike + iPod Sport Kit, which consists of a sensor you put in your Nike+ sneakers and a receiver that connects to your iPod nano, allowing you to record running statistics on your iPod and later upload the data to NikePlus.com so you can share and track your training progress. (The kit is only $29; the sneakers are $100.)
iTunes 6.0.5 also adds support for volume limiting on the iPod shuffle. (Read "Setting the maximum volume limit on iPod" for more info.)
Finally, there's a security fix detailed in this technical note. About the security content of iTunes 6.0.5
Apple also released new iPod software iPod Updater 2006-06-28. This contains new software for the iPod Video version 1.1.2 (fixes bugs), iPod nano version 1.2 (fixes bugs, adds support Nike + iPod), and iPod shuffle version 1.1.4 (fixes bugs, adds volume limiting). All other iPod software is the same.
March 29, 2006
Apple released new software for the nano and 5th Generation (video) iPods. Version 1.1.1 (available from the iPod Updater page) has bug fixes and a new Volume Limiting feature. (Read "Setting the maximum volume limit on iPod" for more info.)
March 1, 2006
Apple released iTunes 6.0.4. As with 6.0.3, Apple provides very little information about this update: "Tunes 6.0.4 addresses stability and performance issues related to Front Row"; we also have yet to find any significant differences.
February 15, 2006
Apple released iTunes 6.0.3. To quote Apple, "iTunes 6.0.3 includes stability and performance improvements over iTunes 6.0.2". We have yet to find any significant differences.
February 7, 2006
iPod deals! Apple introduced a new 1 gigabyte (GB) iPod nano priced at $149. They also cut the prices of the iPod shuffle: the 512 megabyte (MB) is now $69, and the 1 GB is now $99.
January 2006
Apple released iTunes 6.0.2 in early January. Here are the changes we think you should know about:
The iTunes MiniStore is a pane that you can now show in your iTunes window (below your song list) showing music available at the iTunes Music Store related (by author or genre) to the song you are currently playing.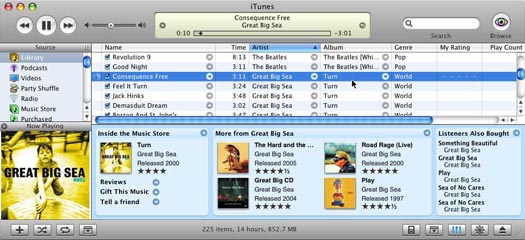 To show your MiniStore: With your library or a playlist selected, click the Hide/Show button in the lower right of the iTunes window or select Edit > Show MiniStore.

The first time you do so, text appears explaining the MiniStore, including the fact that Apple does not store information about your music listening habits. (The MiniStore has stirred up some controversy, as some people thought that Apple was "spying"; Apple presumably added this explanation to allay some people's fears.)
Now you can use AirTunes (page 76) send your music to multiple AirPort Express base stations, using AirTunes. You'll need up-to-date firmware for your AirPort Express base station. More info on AirPort Express and the firmware updates can be found here.
http://www.apple.com/airportexpress/airtunes.html
http://www.apple.com/airportexpress/
iPod video conversion in iTunes
On page 253 we talk about using QuickTime Player Pro to convert your video files into iPod-compatible video. With iTunes 6.0.2, however, no extra tool is needed. Simply drag your video file into iTunes, select the video, and choose Advanced > Convert Selection to iPod (a new menu option). This converts the video file to an iPod Video compatible format.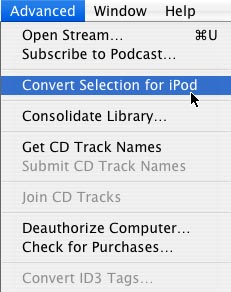 Note that there are now lots of 3rd party tools that produce iPod-compatible video, some of which are faster or offer more options for conversion.
Before this release, videos didn't appear when you shared (page 77). Now, as long as both parties (sharer and sharee) have iTunes 6.0.2, videos can be shared.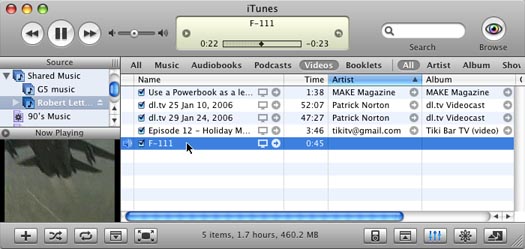 As with music, a purchased video can only be shared if the computer accessing the shared library is one of the five computers authorized to play items from the account under which the video was purchased.
The option for turning off the iTunes radio (mentioned in the last tip on page 68) is now found in the Parental (or Parental Controls) tab of the iTunes Preferences window.
Do you have videos that you didn't purchase from the iTunes Music Store, but that you want to appear on your iPod under the Videos > TV Shows menu? Previously only the videos purchased at the iTunes Music Store could be "TV Shows". Now any video you'd like can have that status: Select the video and choose File > Get Info. In the Info window for the video, on the Options tab, specify Video Kind as "TV Show" .


You can now tag specific podcast episodes so they are not automatically deleted, even though you have set your preferences to only keep recent or unplayed episodes (Figure 9.28 on page 220). To tag a specific podcast episode so it isn't deleted, right-click (Windows) or Ctrl-click (Mac) and choose Do Not Auto Delete.


November 23, 2005
Well, our new book is at the printers; hopefully Apple won't release iTunes 7 before the book gets to the stores! (We were halfway through an iTunes 5 book when Apple released 6 and the video iPod! So we had to re-shoot all screen shots and re-test the text.)
This book has expanded coverage of the iPod in general, specifically the video iPod.
It's one of the first Visual QuickStart Guides to sport a new (kind of cool) cover design.
We'll be posting corrections and additions here.